Hidden Dog Fence Compatible
Upgrades

Pet Stop Upgrades for customers with Invisible Fence & Dog Watch Brand Products
Electronic Fence Compatible Upgrades: If you are an existing customer of any other underground dog fence system and wish to upgrade and/or install Pet Stop® hidden dog fence, we can make it happen! While Alabama Dog Fence is not affiliated with the Invisible Fence brand, we do receive clients who wish to upgrade to a Pet Stop® system, and why not? Pet Stop® fences are the most technology advanced products in the pet containment industry – even if you have another brand of fence, you can still trade in.
Why Trade?
Our clients may upgrade from Invisible Fence, Dog Watch or Pet Safe for a variety of reasons, including but not limited to:
Our service record – we are your best local source for pet containment with a 4.88 on over 300 reviews!
Cost efficiency – annual battery costs are about $10 per year and can be purchased on our website at http://www.atlantapetstopdogfence.com/shop/
We offer the Smallest, Lightest Receiver, Rechargeable, Diagnostic and Blue Tooth compatible with your Smart Phone
Control – you can choose and adjust your own correction levels and often prevent service calls
Compatibility – our collars and transmitters can work with most other brands
If you are an Hidden Dog Fence owner that is looking to upgrade to an American manufactured Pet Stop product because of the bad experience you have had with another system, Or perhaps you want to add a new puppy to your existing Electronic dog fence, but want to give them the Gentle-Steps training experience?; we can offer generous trade in prices and program a new receiver that will work with your already existing Underground Dog Fence system.
Contact us today to ask about our trade-in specials for any other brand of electronic pet fencing, including Invisible Fence®, Dog Watch®, Dog Guard®, or Pet Safe®, or Extreme Dog Fence containment systems!
Pet Stop Brand

Electric Dog Fence vs Invisible Fence Brand®


Pet Stop® has a patented battery, designed by Scott Touchton, the previous Chief Engineer of Invisible Fence and the person who managed the team who invented the original Power Cap® battery for Invisible Fence. This patented battery is made to meet or exceed industry standards and will cost you less money! You don't have to worry about costly battery plans, only order the batteries as you need them and save even more money.
Underground Compatible – Perimeter Computerized Receivers – Rechargeable Receivers!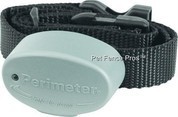 Have you lost your R21 receiver or want to add a new puppy to your Invisible Fence Brand Electronic Dog Fence? We have great news for you! We have a compatible receiver for less than half the price of the R21 Hidden Dog Fence receiver!
This Perimeter ®computerized receiver is actually designed to hold up better to the weather and elements that your dog exposes it to everyday. The Perimeter® receiver is not only smaller and safer for your pet, but is more comfortable for them. It has a low battery indicator light, so that you are not left wondering if the battery has died. There is also a progressive correction option included. Additionally, it is smaller and weighs ½ oz less than the R21. With all these features, it is manufactured, and assembled in the USA 🇺🇸 from imported raw materials!